Save Resources. Recycle Used Cards. CARDCycle.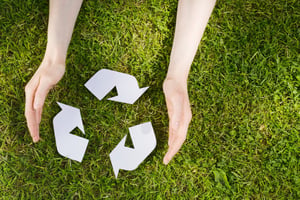 The environment is something we care about at CARDSource. For years, we've been recycling used plastic cards and scrap materials from our manufacturing processes, something we like to call CARDCycling. Now this service is being offered to our valued customers. Together we can recycle used plastic cards and prevent them from ending up in landfills. All types are included, from plastic business cards to gift cards, membership cards, fundraising cards and more. Let's work to reduce pollution, conserve materials, save energy and money. Every plastic card recycled helps ensure you'll have access to quality and reasonably priced cards well into the future.
How to recycle your cards:
Step 1: Sign up for the CARDCycle program by emailing your name and address to info@cardsource.com. Please reference "Card Recycling Program" in the subject line for fastest service.
Step 2: We'll send you a CARDCycle box to use at your establishment.
Step 3: Fill up the box with used/spent cards. Encourage your customers to drop their cards in when done.
Step 4: Send back the full CARDCycle box to CARDSource to be recycled. The box will include a pre-paid peel-off shipping label.
We'll take care of the rest! You'll feel good knowing you've helped our environment through responsible disposition of old plastic cards.
Email us at info@cardsource.com today and let us know you'd like to implement the CARDCycle program! Join CARDSource in our efforts to protect our environment. Try card recycling!