Make a Custom-Printed Gift Card Program Work for your Business
Whether you've been using gift cards for your business for years or are just getting started, CARDSource wants your program to be a success for you and your customers. We make the ordering and printing process easy. By providing advice, we'll ensure your plastic gift cards function properly with your point of sale system. Your brand is important, and your gift cards should reflect your brand. CARDSource's graphic design services can match your existing look and feel, create a new design, or offer tips to your design staff. Your custom gift card will be a focal point that represents your business well. We know that every situation and business is different. We'll provide the options, quantities and fast turnaround you need.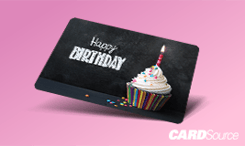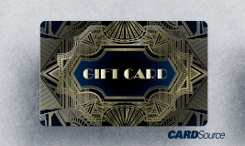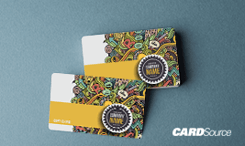 We are pleased to offer our customers:
Quick 5-7 day lead times
Large or small print runs
Personalized assistance during setup
Point of sale system matching capabilities
Design support
Already using plastic gift cards for your business?
CARDSource manufactures and personalizes closed-loop plastic gift cards to fit your business identity and processes. If you already have a POS (point of sale) system established, we'll work with you to gather and coordinate all necessary information to make your program work smoothly. Do you already have a time-honored gift card design your customers recognize? Simply send us the design files, or we can recreate it for you. CARDSource also offers design services, templates, and advice to get your program in action quickly. Gift card holders are also available. We have the capability to produce low-quantity runs as well as large runs of any size, making CARDSource the perfect partner to meet your changing needs.
New to a gift card program?
You're making a great decision to increase your income potential and offer your customers more benefits through gift card purchases. Relax—we'll walk you step-by-step through the setup process. CARDSource staff will guide you and provide recommendations to ensure you get a gift card that fits your business needs and supports customer loyalty. If you're on a tight deadline, save time by choosing one of our numerous professional designs that are ready to print. We offer templates and design services to help get your project moving. If you have design capabilities, you can easily design your gift card with our simple process and detailed templates. If you're in need of a recommendation for a point of sale system or assistance with a disclaimer, we can help. CARDSource has experience with nearly every major gift card POS system and can guide you through the printing setup process. CARDSource will get your program started with a quantity and timeframe that works for you.
Frequently Asked Gift Card Questions
What are the cheapest/least expensive gift card options?
The price of cards depends on what features you want included and how many cards you are ordering. Fill out a quote request form and we'll send you a free, no-obligation quote.
I want to start a gift card program for my company – where do I start?
First, take a look at our gift card page to learn more about gift cards. Many people are interested in the cost of the cards, so you can request a quote to receive pricing information on the product and quantity that you're looking for. If you are designing the card yourself, we recommend that you review the art specifications for the card. Prefer to have CARDSource design the card? Just let us know that at info@cardsource.com or by using our convenient order form. That will get your gift card program rolling!
How do I load money onto a gift card?
Gift cards are not loaded with dollars; the gift card only represents dollars loaded in a back office system. You can think of a gift card as a key that unlocks a database allowing the merchant to see how many dollars are assigned to that card. Learn more in our blog post about plastic gift cards.
How can I make your plastic gift cards work within my POS (point of sale) system?
Every gift card includes a unique number in the form of a barcode, magnetic stripe, encoded chip, or even something as simple as a plain human readable number. It is that number which is activated, or "loaded", with the proper dollar amount. This is done in the gift card transaction system database. When the activated gift card is presented for redemption, the unique number is again read into the database. The associated card value is then retrieved from that database, the spent amount is deducted from this amount, and this new lower value is then stored back in the database. Learn more in our blog post about how gift cards work.
How do you create plastic gift cards?
The production of gift cards is a printing process. The customer's logo and design is reproduced on a plastic card and a unique number is added to each individual card. The vast majority of these are constructed using PVC (polyvinyl chloride) plastic. Once printed with the customer's design, the card must be "finished" to protect the printed design, then numbered to allow for card activation. Learn more by reading this blog post about how gift cards are made.