Event passes are the final touch to any event. You can get as creative as your mind can imagine, or as simple as you need. With multiple stocks, finishes, breakable tokens, shapes and hole punches; your new pass can be as unique as your event. Event passes are an asset to every event, they make each member feel as if they're the most valuable attendee.
Let's look at some great opportunities for design and functionality;
Combat Tampering
Creating multiple designs based on varying levels of access, contribution or participation guarantees that your event passes cannot be easily duplicated. If your event requires even more extra security, add a programmable and scannable bar code to verify that everyone is in the right place.
Single Solution Package
Have your event pass be the only product you need to handout to your attendees. Create breakable drink, food, coupons or backstage passes on your event pass so everything is all-in-one place. You could even add on an event schedule on the back to save on other printing resources.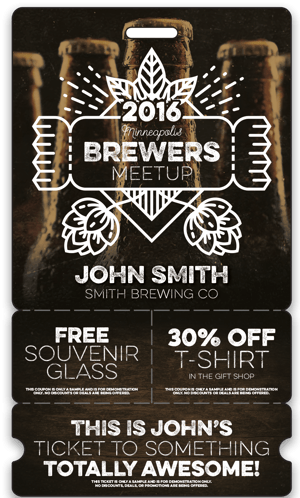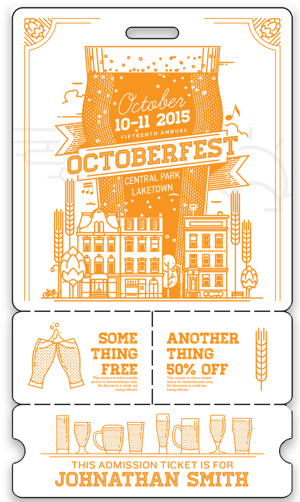 Multiple Design Options
There's multiple stocks, finishes, sizes and even shapes to choose from. You can customize the shape by making a custom die cut that perfectly matches your events theme. Build your design with the idea of using a clear or frosted stock; or a pearl, matte or glossy finish. All our options are cost effective and add crisp professionalism to each design. We also have over 30 free templates to choose from, including templates that incorporate breakable tokens. If you need help creating a custom die, let us know.
Memorable Keepsake
An event pass can be so much more than a one-time use ticket. Creating a memorable keepsake for your guests to cherish for years to come is an important aspect of any event. This is also the perfect opportunity to market your brand and your sponsors.
Individual Personalization
Variable data can be added to the passes to incorporate attendee's names, photos, bar codes or QR codes for quick website driven traffic. These options can be built into the design to personalize each attendees pass.
Great for any type of event
Whether you're in entertainment, sports, conferences, or promotions; event passes are awesome for every type of event. They add organization among chaos, combat counterfeiters, create an unforgettable souvenir and save resources by creating an all-in-one ticketing system.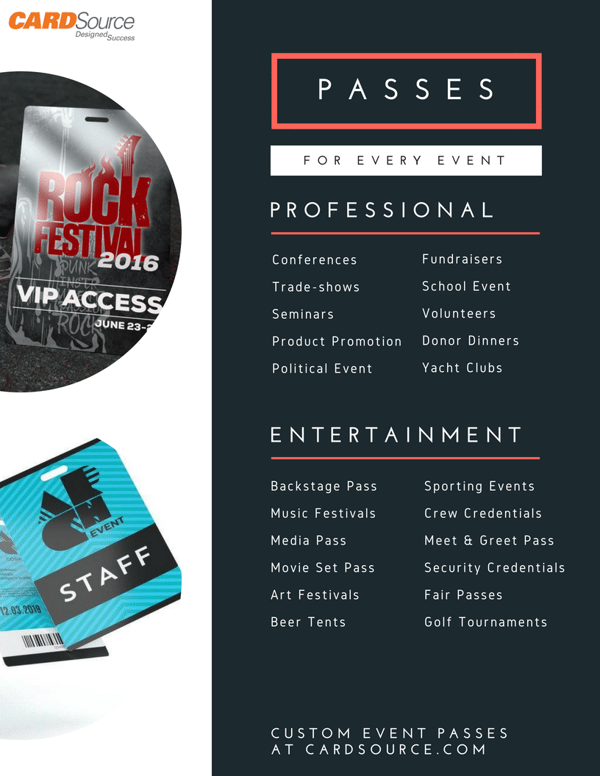 Craving more information about event passes? Let us know! We are here to help. For more inspiration, check out our gallery.
CARDSource offers excellent customer service and personal assistance while setting up new passes. Let us know about your event and we can get you started with your new event passes.