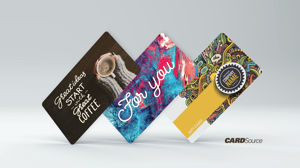 You have received gift cards, given them as gifts, and now you want to offer them for your business. The benefits of a gift card program for your customers are clear: they are easy to buy, use, and offer your customers options. Plus, they are a promotional tool for your business. What are your gift card program possibilities?
In the blog post, Closed Loop vs. Open: What Is The Best Gift Card Program For My Business, we explained the two categories of gift cards: closed-loop compared to open-loop. Now we are going to dig in a little deeper and share the options within closed and open-loop programs.
Closed-Loop Vs. Open-Loop Gift Card Programs
To recap, closed-loop gift cards only work at one store, or with one corporation's brands. They will not have the logo of a major payment processor like Visa® or MasterCard® on the card. Only the specific business' gift card processing program will accept closed-loop cards.
Open-loop gift cards look like a credit card, are not specific to a business and are accepted nearly everywhere. They process on credit card systems such as Visa® and MasterCard®.
Closed-Loop Gift Card Programs
Gift Card Vendor Program – This option is created by a partner such as CARDSource that works with you to create a gift card. When choosing a vendor to work with, make sure they address the question of how you'll process the card to ensure you have a processing plan and system in place. This is normally your most flexible option when considering design and program offers.
Merchant Bank Gift Card Program – Some Merchant Banks offer closed-loop gift cards that can only be used at your business. Normally these cards are easy to set up in your system because it ties in with your current processing terminal. However, make sure you review your needs and your program plan before committing, as there is normally limited flexibility in designs, program features and processing options.
Open-Loop Gift Card Programs
Restricted Gift Card Program – An open-loop restricted card processes on the credit card network such as Visa® or MasterCard®, but can be limited to work at designated business locations. For example, this could work for a shopping center that offers cards that process at all the stores within the shopping center. These cards can also limit what can be purchased with them. Because of the restrictions available, these cards are more of a custom order per individual, so the availability is limited.
Unrestricted Gift Card Program – The open-loop unrestricted card is similar to the restricted card, but does not allow you to add limitations on where it can be used or what can be purchased. Basically, it is a gift card with your business's name on it that can be processed anywhere that processes credit cards.
Branded Prepaid Gift Card – Looking to offer a gift card to customers as a gift from your business? A branded prepaid card may be the option for you. This is a gift card that has your business name on it, but can be used anywhere. You prepay for the card unlike the other options where money is loaded when it's purchased. These cards can be used anywhere so you need to look at these as a gift from your business.
Don't let all the details overwhelm you from taking the first step in implementing your gift card program. Making the decision to have a program gets you moving in the right direction. There are experts, like CARDSource that walk through the details to ensure you get set up with something that that works for you and will help you achieve your goals.
Get started with a CARDSource closed-loop gift card program today or contact us with any questions you may have.
Still curious about gift cards? Download our FREE Ultimate Gift Card Guide for business owners: