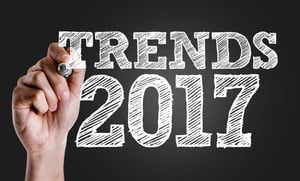 At the beginning of every year, there is always speculation about what trends we'll see in the upcoming year. It could be clothing, sport, business trends or any variety of topics. We like to watch what the popular forecasts predict.
There was one particular article that caught our attention, 5 Business Trends That Will Take Off in 2017. The author, Jeffrey Hayzlett, discussed topics that impact how plastic cards can be used, along with some ideas that are important to us at CARDSource and many other businesses.
Business Trends for 2017
These are the business trends mentioned in the article. We'd like to share how they can impact your business and your usage of plastic cards.
Elevated Customer Engagement: The customer is always the most important aspect of a business. Personalizing cards, using variable data and information, and providing the right card for the right opportunity puts focus on the customer experience.
Customer Data Collection: Loyalty and membership cards are a perfect fit for this topic. Tracking customer behavior and encouraging the actions you want can all be done using a loyalty or membership card program. Having a great contact management solution amplifies the impact of maintaining information and client relationships.
Automation: People and businesses are busy and searching for efficient ways to get results. Card programs, variable and personalized data, and mailing services all help make processes more efficient.
Crowdfunding: The takeaway on the following point is meaningful, "Just because something doesn't fit the mold doesn't mean it's not useful to you." If you've never offered a gift card program or rewards program before, now could be the perfect time to introduce it to your customers.
Specialization: It is hard to be an expert at everything. We focus on plastic cards and making the process easy for our customers. When you are looking at implementing a loyalty or gift card program, just ask us your questions, we'll make it easy.
Top Trending Plastic Card Products in 2017 So Far
This got us thinking about the trends we see in the plastic card industry. Businesses are looking for new, exciting options. Consumers have short attention spans and are looking for a quick benefit. Here are a few of our most popular products so far in 2017:
Gift Cards. A continuously popular product for retailers and organizations to offer that helps them grow their business, visitors, and sales.
Gym Membership Cards. A new year always starts out with a bang as health clubs see membership increases related to new year's resolutions.
Business Cards. The new 3.5" X 2" business card provides a classic business card size with the quality and impact of a plastic card.
Variable Information. Personalization is becoming more popular and necessary in certain situations.
Affix and Mail Service. Businesses are busier than ever. This is one more way we help make their lives easier.
We are almost half way through the year. Time goes quickly. What trends do you think we'll see in the second half of 2017? Don't let time get away from you.
Contact CARDSource today to get your card program started.